Commercial Ice machine Subscriptions
Do you need a reliable supply of ice for your business?
Wouldn't you like all your ice needs met for a predictable, fixed low monthly fee?
How about eliminating maintenance and repair costs for your ice machine?
If you answered yes to any of these questions, your solution is an all-inclusive ice machine subscription from Simple Ice!
$129 A MONTH FOR 600 LBS OF ICE A DAY
We are the only local company offering a comprehensive subscription service for commercial ice machines that includes all repairs, preventative maintenance and much more!
Simple Ice is the only company with a local presence that gives you a

100% Lifetime Guarantee for a Commercial Ice Maker.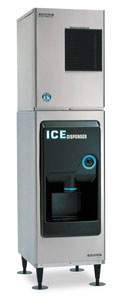 Successful business owners invest their capital in assets that generate a return—and ice machines fail that test. That is why previous owners of ice machines are making the switch to the Simple Ice subscription model.
Our solution is simple. For a nominal setup and fixed monthly fee, we provide:

Top of the line Hoshizaki commercial ice machines, bins, and dispensers
Free standard water filters for commercial ice makers
All preventive maintenance including 2 comprehensive ice machine cleanings per year
All repairs, including parts and labor, included with subscription
Breakdown Ice: Complimentary ice if the ice machine is broken
24/7 customer service
Simple ice machine upgrade program and no-penalty, 30-day cancellation policy for qualified customers
Less than $4.25 per day for 600 lbs of ice.